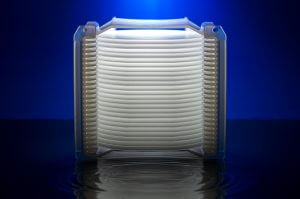 NQW produced this Quartz disks and substrates for sensor manufacture and related R&D centres. The Application of Quartz disks and substrates are especially used for all kinds of sensor module manufacture such as piezoelectric accelerometers, load cells, pressure transducers and impulse hammers.
NQW materials from the major manufacturers in all grades and specifications. All syntetic quartz offered by NQW is certified by the manufacturers.
Crystal Quartz Material
SAW Grade: Orientation AT- or ST-Cut
Optical Grade: Orientation X/Y/Z-Cut
Pure Z – Q value≥ 2.4x10E6, Q value≥ 1.8 ;2.4; and 3.0x10E6
Y -Bar Q-value ≥1.8×106, Etch Channel density ≤300/cm2
Wafer Application
Pure Z – for communication
Y -Bar for Consumer Electronics
Sensor Application
quartz blanks for Piezoelectric
Dimension & Thickness
Round Wafer 2" up to 6"
Square Wafer 10x10mm up to 100x100mm
Thickness: 100µm up to 4000µm
Semi Flat(s), Notch
Edge: C-Shape, beveled, As Cut
TTV <10µm (Standard) up to <5µm (Premium)
BOW +/-40µm , WARP <40µm
Surface & Quality
Surface Finish: Single / Double Side Polished, Lapped, Grinded
S/D-Quality 60/40 (Standard) up to 10/5 (Premium),
Polished Ra<1nm (Standard) up to <0.5nm (CMP)
Lapped Ra 0.1µm up to 0.5µm
Do you need further information or a quotation?
Please feel free to call use by phone +49 (0) 9101 / 90 220 – 200 or simply use our request form.