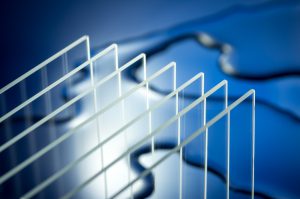 Fused silica is a noncrystalline (glass) form of silicon dioxide (quartz, sand). It lacks long range order in its atomic structure. Its highly cross linked three dimensional structure gives rise to it's high use temperature, low thermal expansion coefficient, high purity, high transmission and high refractive index homogeneity.
This material is widely used in semiconductor, medical science, communications, lasers, infrared, electronics, measuring instruments, military, aerospace and others high-tech industry. NQW materials from the major manufacturers in all grades and specifications. All fused silica offered by NQW is certified by the manufacturers.
Key facts about our Production Capabilities
Fused Silica Material
Corning: e.g. HPFS 7980, 8655, 7979, 7978 all Grades
JGS1, JGS2, JGS3
OHARA: SK-1300; SK-1310
other Materials on Request
Wafer Application
High temperature lamp envelopes
Temperature insensitive optical component
Mirrors in highly variable temperature regimes
Microwave and millimeter wave components
Dimension & Thickness
Round Wafer 2″ up to 400mm
Square Wafer 4x4mm up to 400x400mm
Thickness 100µm up to 10000µm
Semi Flat(s), Notch or without cutoffs
TTV <10µm (Standard) up to <5µm (Premium)
BOW +/-40µm , WARP <40µm
Surface & Quality
Surface Finish: Single / Double Side Polished, Lapped, Grinded
S/D-Quality 60/40 (Standard) up to 10/5 (Premium),
Polished Ra<1nm (Standard) up to <0,5nm (CMP)
Lapped Ra 0,1µm up to 2,0µm
Lasermark OCR
Diffuser Disks for Laser-Application
As a Laser Diffuser Disk the Requirements for Surface Roughness, optical Purity and thermal Stability are very challenging. Due to our continues Research and Development since 2010 we can offer Fused Silica Wafers with a homogenous and precise Roughness of Ra 0.8 um on the backside of the Wafer – up to 200 mm Wafer-Diameter. The polished front side is highly glossy and has a Roughness on almost atomic scale. Since 2012 we introduced a full Reclaim Service to refurbished used Wafers and save costs for our Customers.
Our main production lines produces 125 mm and 160 mm fused silica diffusers with a yearly capacity of nearly 3k wafers. As a result of our huge raw material demand per year and our Experience in Resizing and Surface Processes we can offer Fused Silica Wafers even for small Projects at a comparable Price.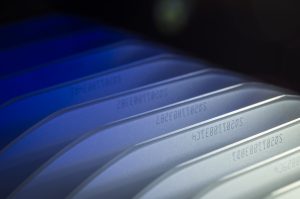 Do you need further information or a quotation?
Please feel free to call use by phone +49 (0) 9101 / 90 220 – 200 or simply use our request form.